Growing Parsnip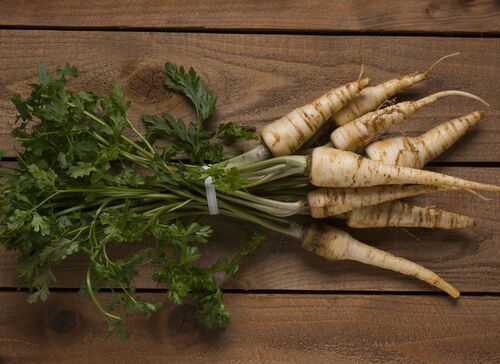 The parsnip (Pastinaca sativa) is a root vegetable closely related to carrot and parsley, all belonging to the flowering plant family Apiaceae. Parsnips are native to Europe and Asia and has been cultivated for human consumption since at least Roman times. Parsnip is brought to American by the first colonists. 
Sowing parsnip
Sow seeds directly into the soil from mid-spring, after the soil has warmed up. Parsnip seed can be tricky to germinate. Always use fresh seed and be patient, they can take up to three weeks to sprout. Parsnips prefer an open, sunny site with deep, light soil.
Sow seeds thinly, or sow three at 15cm (6in) intervals, 13mm (½in) deep, in rows 30cm (1ft) apart. 
Parsnip varieties
There are different types of parsnip seeds, but the most popular is the Parsnip Guernsey. This variety has certainly earned its spurs in the Netherlands over the past 50 years and is available in the Dutch Garden Seeds webshop in the regular variant as well as in the organic variant.
Harvesting parsnip
Although parsnips mature in around four months or 100 to 120 days, many gardeners leave them in the ground over winter. You can harvest parsnips when roots reach full size, about 1½ to 2 inches (3-8 cm) in diameter and 8 to 12 inches (20-30 cm) long. 
Parsnip and frost
Experienced parsnip growers will tell you that parsnips taste the best only after they have experienced some frost. Freezing temperatures cause the starches in parsnip roots to turn into sugar, resulting in a carrot-like root vegetable with a naturally sweet, nutty flavor.
Health Benefits of Parsnips 
Parsnips are an excellent source of many important nutrients, packing a hearty dose of fiber, vitamins, and minerals into each serving.
In particular, parsnips are a great source of vitamin C, vitamin K, and folate, as well as several other important micronutrients.
In addition to being highly nutritious, parsnips also supply many antioxidants.
Parsnips are a great source of both soluble and insoluble fiber.
Low in calories yet rich in fiber, parsnips make an excellent addition to a healthy weight loss diet.
Parsnips are loaded with vitamin C, providing about 25% of your daily needs in just one serving. 
How long do Parsnip seeds last?
Parsnip seed stays viable for only one year, so saving seed could lead to wasting it.
Parsnip diseases 
A common disease that affects the parsnip is the Itersonilia and the Phoma. Both have a similar decaying process. This can be seen on the leaves.
Cultural Controls & Prevention:
Select and plant resistant cultivars.
Rotate parsnip with non-host crops.
Control carrot rust fly as larvae can predispose roots to infection.
Cover the shoulder of parsnips with soil throughout the growing season.
Crop rotation is recommended.
How does Parsnip taste?
The easiest way to describe what a parsnip tastes like is a cross between a potato and a very mild carrot. Parsnips can be described as earthy, but also bright-tasting at the same time. They're slightly sweet and also have hints of herb since they're related to parsley.
Cooking with parsnip
Sweet in flavour and robust in feel, parsnips are often the first side dish to be scoffed. However, they can be used for much more than simply a roasted side. Like their relative carrots, they can be used in sweet dishes and brunch recipes, and deserve to take centre stage as the star component of a main course.
Enjoy!